The gavel fell on bidding for the first 2024 Ford Mustang GT off the line, VIN 001, at Barrett-Jackson's Scottsdale, Arizona, auction tonight with a sale price of $490,000.
Proceeds from the auction of the seventh-generation sports car benefit the Juvenile Diabetes Research Foundation (JDRF).
"Ford has a long tradition of supporting charities through the Barrett-Jackson auction, and we're proud to offer the all-new Mustang GT to support worthy causes like juvenile diabetes research," said Mustang Marketing Manager Jim Owens.
Ford Motor Company's history of auctioning off VIN 001 vehicles to benefit the charity. has resulted in millions of dollars being raised to benefit JDRF.
A 2021 Ford Mustang Mach 1 in Fighter Jet Gray went for $500,000. The previous year, a 2020 Ford Mustang Shelby GT500 was driven onto the auction block by Carroll Shelby's grandson Aaron Shelby and Edsel Ford II. That model sold for $1.1 million to Craig Jackson, the Chairman and CEO of the auction.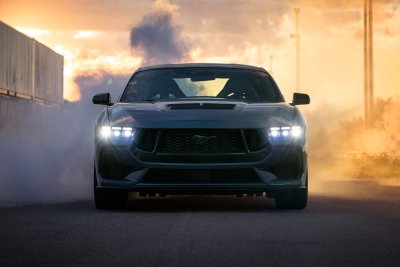 A Wimbledon White and blue 2016 Ford Mustang GT350R brought down the gavel for $1,000,000. A year before that, North Texas dealer Sam Pack purchased the first retail production unit of the sixth-generation Mustang GT for $300,000.
Ford Motor Company's relationship with the charity dates back to 1983 when the automaker sponsored a fundraising walk in Dearborn, Michigan, near the company's headquarters.
The affiliation turned personal in 1997 when the son of Edsel Ford II and great-grandson of Ford founder Henry, Albert, was diagnosed with Type 1 diabetes.
The following year an employee-driven Ford Global Walk Team was formed, with Edsel Ford II leading the charge.
In 2015, the Metro Detroit and Southeast Michigan Chapter of JDRF received a $1 million gift from Cynthia and Edsel Ford II.
The next-generation Mustang GT, the most powerful in company history, debuted in September. The car's 5.0-liter V8 engine delivers 486 horsepower and 418 pound-feet of torque. Either a six-speed manual or 10-speed automatic transmission is available.
Mustang GT buyers can get the model with the optional Performance Pack, which adds Recaro seats and an active exhaust to the American sports car.
The electronic drift brake allows rear-wheel drive drifting capability.
The winning Mustang GT bidder will be able to choose from any of the standard Mustang GT fastback options, which includes 11 exterior colors, 18 to 20-inch alloy wheels and Brembo brakes (three colors available). Interior packages and the Performance Pack are also options.
The new Mustang is expected to reach dealerships this summer. Pricing for models from VIN 002 and up has not been revealed.